Going to court can be stressful, especially in Utah, where the multi-level court system can be confusing.  Utah has two different trial courts, called "justice courts" and "district courts," where trials are held to determine guilt or innocence for crimes.  Justice courts deal with less serious crime, but are also where preliminary hearings and arraignments take place at the local level.  District courts are the courts where trials for more serious crimes take place.
It may be confusing to navigate this system and understand where you are supposed to go.  Just remember that the court you go to depends on what crime you are charged with.  Aside from that, this article will show you the general breakdown of which cases go to which courts, as well as provide information on courthouses in Utah County, Utah.
What Cases are Tried in District Courts?
Utah splits its trial caseload into two different types of courts: "justice courts" and "district courts."  Generally, justice courts handle pre-trial hearings as well as trials for Class B and Class C misdemeanors.  District courts handle trials for Class A misdemeanors and all felonies, but also handle new trials for appeals of justice court decisions.
The first thing to understand is the difference between a felony and a misdemeanor.  A "felony" is a crime punishable by more than a year in prison, and a "misdemeanor" is a crime punishable by up to a year in jail.  Generally, misdemeanors are less severe crimes than felonies.  There is a third type of crime, called an "infraction" in Utah, which is closer to a traffic ticket than an actual criminal offense – but still have fines attached.
Felonies and misdemeanors are further broken-down into "degrees" for felonies and "classes" for misdemeanors, as follows (with the most severe crimes on top):
Felonies
Capital: punished by life in prison or the death penalty
First Degree: punished by five years to life in prison and fines up to $10,000
Second Degree: punished by one to fifteen years in prison and fines up to $10,000
Third Degree: punished by zero to five years in prison and fines up to $5,000
Misdemeanors
Class A: up to one year in jail and fines up to $2,500
Class B: up to six months in jail and up to $1,000 in fines
Class C: up to ninety days in jail and fines up to $750
These punishments are general rules and may change on a case-by-case basis.  A sentencing hearing after conviction is the only sure way to know what sentence you will actually face for a particular offense.
District courts in Utah only hear cases charged as Class A misdemeanors or as a felony.  Class B and Class C misdemeanors are heard at justice courts, instead.  If there is a mix of crimes charged, as long as one of them is a Class A misdemeanor or higher, the case will go to district court.  Further, some crimes may be graded differently depending on facts of the case, such as the amount of money taken or whether a weapon was used.  In those cases, the case goes to the court based on what grading is actually charged, not what could possibly be charged.
Since most pre-trial hearings, including preliminary hearings and arraignments, are held at justice courts, you should also familiarize yourself with the information we have provided on justice courts (link to: Utah County Justice Court Locations and Information).
District Court Locations in Utah County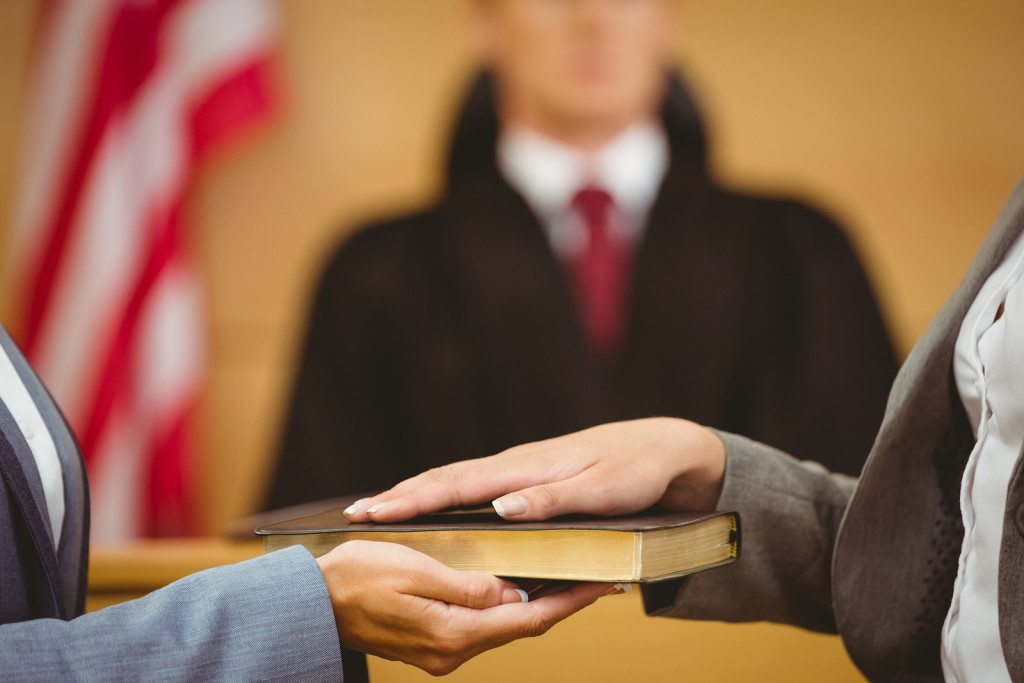 There are four district courts in Utah County, assigned by the geographic area they cover.  The Provo District Court is by far the largest, but there are three more courts.  The following information is the name, address, and telephone number for each court, as well as the judges who sit at each court:
("J." is the abbreviation for Judge.)
American Fork District Court

Judges – J. Roger Griffin
J. Roger W. Griffin
J. Robert C. Lunnen
Address – Church St. and Main St.
75 East 80 North
Suite 202
American Fork, UT 84003
Phone – (801) 756-9654
Provo District Court

Judges – Assoc. Presiding J. M. James Brady
J. Jennifer A. Brown
J. Lynn W. Davis
J. Christine Johnson
J. Thomas Law
Presiding J. Darold J. McDade
J. Samuel D. McVey
J. Derek P. Pullan
J. James R. Taylor
Address – 125 North 100 West
Provo, UT 84601
Phone – (801) 429-1000
Salem District Court

Address – 30 West 100 South
PO Box 901
Salem, UT 84653
Phone – (801) 423-2770
Spanish Fork District Court

Judges – J. Kraig J. Powell
Address – 775 West Center
Spanish Fork, UT 84660
Phone – (801) 804-4800
For more information, such as directions, websites, and fax numbers (where available), check the Utah County court directory here.
Our Utah Criminal Defense Lawyers Have the Experience to Handle Your Case
If you have been charged with a Class A misdemeanor or a felony in Utah County, and you need a criminal defense lawyer to help you with your case, call Darwin Overson.  Darwin Overson is currently accepting new clients who have been charged with crimes in Utah County and other counties in Utah.  For a consultation, call (801) 758-2287.